"I'm just out here surviving,"

Lakeith Stanfield's protagonist Cassius Green muses at the start of Boots Riley's new film "Sorry to Bother You."

"I mean, what I'm doing right now won't even matter."

This mantra is carried across the Chicago native's debut feature, a sci-fi pseudo-satire that all but defies categorization. Set in an alternate version of Oakland, California, the film follows Cassius Green—a down-on-his-luck twenty-something—on his journey from unemployment to grotesque wealth. He is living in his Uncle Sergio's (a tracksuit-sporting Terry Crews) garage, alongside his girlfriend, the enigmatic Detroit (Tessa Thompson), behind on his rent and searching desperately for a job in a seemingly desolate, poverty-stricken environment. In this reimagined present, the streets are littered with garbage, graffiti, and the estranged members of Cassius's high school football team, who seem to be in the middle of a neverending practice session. The media is saturated by ads for the Orwellian WorryFree, a company led by the coke-sniffing, hard-partying Steve Lift (Armie Hammer), which offers citizens free food and residency, as well as the promise of a life without taxation at the cost of a lifetime labor contract. In contrast, the city streets are overrun by the radical activist group "Left Eye," essentially an alternate universe Antifa, who is having a competition over which of their members can deface a WorryFree billboard in the most creative manner. This group includes Cassius's circle of friends—in particular Detroit—who is trying to display her disdain for the proverbial Man through Afrofuturist modern art.

Francesca Kritikos is a writer and editor from Chicago. She studied English Literature with Creative Writing at the University of East Anglia, where she was editor of the university's undergraduate creative writing anthologies. Her poems have appeared in Plasma Dolphin, MISTRESS, Bad Pony Mag, Peach Mag, Hobart, #NewWriting and more. Having been an intern at Chicago Review Press, she also served as guest editor for issue 3 of Hotdog Mag and issue 4 of MISTRESS. She is currently an editor at Kitchen Toke. Twice a winner of the Luminarts Cultural Foundation creative writing competition, her first chapbook, IT FELT LIKE WORSHIP, more recently placed her as a featured finalist in Nostrovia! Press's 2016 Chapbook Competition. IT FELT LIKE WORSHIP was published by Sad Spell Press in June 2017.

"It might be possible that the world itself is without meaning."

To put it simply, the first time I read these books, I was confused. They seemed to be about nothing. As I reread them, however, entrenching myself in the imagery, they soon became alive with meaning. Woolf is a genius. She once said that to capture moments in their most organic form, the writer has to "record the atoms of the mind," enacting and habituating her readers to fill in the plot with their minds.

Powered by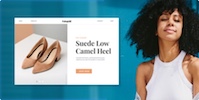 Create your own unique website with customizable templates.