Francesca Kritikos is a writer and editor from Chicago. She studied English Literature with Creative Writing at the University of East Anglia, where she was editor of the university's undergraduate creative writing anthologies. Her poems have appeared in Plasma Dolphin, MISTRESS, Bad Pony Mag, Peach Mag, Hobart, #NewWriting and more. Having been an intern at Chicago Review Press, she also served as guest editor for issue 3 of Hotdog Mag and issue 4 of MISTRESS. She is currently an editor at Kitchen Toke. Twice a winner of the Luminarts Cultural Foundation creative writing competition, her first chapbook, IT FELT LIKE WORSHIP, more recently placed her as a featured finalist in Nostrovia! Press's 2016 Chapbook Competition. IT FELT LIKE WORSHIP was published by Sad Spell Press in June 2017. Your chapbook IT FELT LIKE WORSHIP came out last summer by Sad Spell Press. How would you describe it as a collection? What has the process of creating it been like for you?

I think I spent more time putting that collection together than I have on literally anything else. It was definitely something that grew and stagnated with me, and I'd describe it kind of like the Lisbon sisters' room in the Virgin Suicides - delicate and saturated. I think it's very indicative of how overwhelmed I felt throughout those years of my life, kind of like a newborn animal. When I was writing it, I felt heavy with the accumulated past of my entire life - writing it was kind of like vomiting, and now I can move on to something totally different. It was very much catharsis.

What I particularly resonated with in the collection was this idea of performativity in the female experience. So much of teenage girlhood seems to me to be a kind of reaching, trying to bridge this incessant rift between who you are and who you feel you should be. There was this sense in the poems, I felt, that girls aren't born, but made – self-curating & navigating archetypes for some sort of direction. And then alongside that: this feeling of disjunction and failure at times – that one hasn't fully succeeded in living up to whatever role they're playing. That was particularly prevalent for me in ANNIE, because all these gestures towards that pastel Sofia Coppola-esque 'girlhood' were preceded by the acknowledgement that they were attempts - 'trying to shine', 'trying to be more than two girls', 'tried to paint / ourselves into masterpieces'. Was that repeated disclosure of 'trying' (I guess as opposed to saying you did succeed in enacting those things) a conscious thing you wanted to convey in the poem, or did it come about accidentally? How did existing portrayals of femininity and archetypes influence the writing of the poems?

I was just thinking today that my entire personality is based on the men I've had relationships with, and I really think that is true and inevitable for girls, to some extent. When I was a teenager, I was always trying to be the girl I thought some guy would like, and the girl that every guy would like. And those attempts still echo in my personality today. I really have to try to not be passive, because when I think of those images in ANNIE - performing something, or trying to perform something, for someone else - I remember how little my own voice mattered to myself. In her book Speedboat, Renata Adler wrote about how the simplest thing is being a major character in your own life. I didn't feel like a major character, and it didn't feel like my own life.

I actually never noticed the repetition of "trying," but it makes total sense. I always felt like I wanted to be something appetizing and consumable, but I never was - or if I was, it still wasn't something that would be to my advantage. I was reading books like Lolita and getting them all wrong, because I so needed to be an object of desire. I can't even pinpoint what archetype or influence led me to believe that, or even when I started believing that. It felt totally natural, which is terrifying.

IT FELT LIKE WORSHIP is about girlhood and womanhood and the liminal space between the two – I think Nina Ward called it 'that world of the in-between', which I loved, because that stage of your life really does feel like a whole all-encompassing world in itself. You talked about the pamphlet being a coming-of-age book 'in the accidental sense' that it was written while you were coming of age, so I was wondering if you have any recommendations of female bildungsromans? What kind of media has shaped your own coming of age - both as a person and a writer?

The House on Mango Street and Woman Hollering Creek by Sandra Cisneros are two books I read in elementary school that really stuck with me. I've reread both of them multiple times, and they always affect me so much. They capture women's pain in such an exact, specific and beautiful way, unlike anything else I've ever read. When she wrote "I am the one who leaves the table like a man, without putting back the chair or picking up the plate" - that changed everything for me, honestly.

And I loved the film An Education for all the wrong reasons, but rewatching it recently, at a completely different point in my life from when I first watched it, I feel like it still means just as much to me, only in a different way now. And I feel that way about a lot of things - like, it's still poetry, but its language is changing.

I feel like I'm just coming out on the other end of that liminal space, although I'll probably look back and not think that's true at all. Everything old is taking on some new meaning, and it's the closest I can get to murdering the past.

Speaking of murdering the past, I remember reading in an interview that some of the earlier poems in the chapbook felt immature and embarrassing to you now. I really admire that you decided to keep them in, since I guess the natural instinct when coming across a younger version of yourself is to disregard or demolish the evidence (I'm thinking of old Facebook statuses here). Was there ever a sense of conflict or indecision for you about whether to keep those 'embarrassing' poems in the pamphlet? How do you deal with self-doubt and fear when it comes to writing?

I've definitely tended toward demolishing the evidence - once I deleted 30,000 of my old Tumblr posts in one day. In terms of my poetry, though, and with my chapbook especially, I wanted it to serve as an artifact, and I wanted it to be honest. And that involved keeping in the messy, overemotional writing that I wanted to destroy. I have to constantly fight the urge to just delete all of my poetry from my computer and never write again, but what helps me to not do that is to think of my poetry as a journal or historical record of my life. If I don't try to remember myself, no one else will.

Whilst the poems are coloured by a female and adolescent lens, I suppose they're also detailing a specifically American coming-of-age experience - and a religious one at that. It's interesting to me from an outsider's perspective, because whilst I can relate to the wider themes there are cultural signposts in there (diners, trailer parks, downtown Chicago) that are naturally inextricable from the locus of your upbringing. In what ways has living in the United States and within a religious environment influenced your growing up, as well as your writing? Do you feel a part of a 'writing community'?

When I was writing about the U.S., I was living in the UK, and I think that missing home but also being glad I was gone is reflected in my writing. I'm not sure why, but in the UK, I didn't have the feeling of being "served," like a piece of meat on a plate, that I had (and still have) in the U.S. Maybe it's because I felt I had some anonymity in the UK, or because I was thousands of miles away from my church and family and everyone I knew, but I no longer felt so surveilled. The tension between those two countries is definitely something that impacted how I wrote IT FELT LIKE WORSHIP and even that I wrote it at all.

The religious environment I grew up in - and remain linked to - also definitely made it difficult for me to find both the agency and courage to write, which as an act made everything feel too concrete/irrevocable/real. I was honestly so scared, and I had to keep reminding myself to fight against the way that environment infantilizes women and encourages their silence, thriving off of it. My fear of writing is just one of many fears that exist in my life as a result of that world. I think the most tangible impact religion has had on my life is seen in my strong tendency toward passivity over activity, which reached its peak and possibly its turning point in the midst of my work on IT FELT LIKE WORSHIP. I have to try to fight against that as a writer and also in every other part of my life, every day.

Now I'm back in the U.S., but as an adult, and it's a totally different experience, almost like living in another foreign country. The shifts around the world have sort of obstructed my efforts to become part of a community, although sometimes I almost prefer that feeling of anonymity and think it's better for my writing, or ability to write at all. I have poet friends who live hours and hours away from me, but we send each other descriptions of our meals or fragments of our poems, recommend songs to each other, fantasize about having our own apartments and enough money to visit each other, etc. I think that's my community, and I cherish it.​

In another interview, Jessie Knoles was asking about the transition from 'powerless to powerful' in the chapbook, which made me consider the question of empowerment in your practice. Whilst the systems the pamphlet operates within (religion, patriarchal society) have oppressive sides to them, the poems seem to flit constantly between subjection and subversion, derailing the established narrative. I'm wondering how writing poetry has affected your attitude towards these systems? Has it been a source of [reclaiming] power, or more a medium for expressing existing attitudes?

When writing IT FELT LIKE WORSHIP, it was so hard for me to make myself the center of my poems, or to write without cloaking what I wanted to say about myself in layers of artifice, precisely because of the systems they operate within, which was symptomatic of powerlessness to me - I thought a truly powerful person would be able to speak without trying to hide. The act of attempting to write bittered me in some way, increased my awareness of how little agency I had sometimes. But where the act of writing served more as a medium for expressing existing attitudes, I feel like the act of releasing them into the world - even on such a small scale - has been a source of reclaiming power, just as being and being seen in public is a form of reclaiming space and power for those who have lacked it.

Your poem 'UNDER THE PLEASURE DOME' starts with the lines 'having sex with all my therapists / on a checkered picnic blanket', which is just iconic as far as opening images go. If you could invite 5 writers, dead or alive, and have a picnic with them for the day (no sex, no rummaging), who would they be?

I love this question so much. I'm not sure how this group would interact with each other, but it would need to be Joan Didion, Emily Dickinson, Sandra Cisneros, Sappho and Anne Sexton. I would want to know the truth of their lives more than anything else.

Many of the poems in IT FELT LIKE WORSHIP are written in lowercase, often elongated into column-like structures by line breaks. It's quite a distinctive style. I remember you saying in an interview that the capitalization of the chapbook title was a revolt against your urge to use lowercase when writing. Where does this urge come from? The prose poems in the collection are interesting in that the absence of line breaks and adherence to 'proper' punctuation make them sound more authoritative (I'm thinking particularly of 'BEING ADAM' here). It made me wonder whether the lowercase elsewhere was another way that you were subverting the established narrative – by rejecting traditional language rules? What kind of things influenced your stylistic decisions in the writing of these poems?

I think the urge to write in lowercase came from all the poetry I had to read in school - the kind of poetry that makes people not like poetry. It makes sense to me that poetry should change as the way people speak to each other changes - I'm thinking of texts, emails, Facebook messages, etc. It was a style that one of my poetry professors criticized, which made it feel like a more necessary decision. But at the same time, I think it was conducive to a kind of female powerlessness that I wanted to counteract in some way, which is where the capitalized titles came from - I don't know if either of those decisions are actually impactful, but they felt significant to me.

I'm actually writing with "normal" capitalization in my newer poems, but that choice is coinciding with a pervasive feeling of general meaninglessness, for what it's worth. Lately, the poems that I'm writing have stemmed from fragments from my journal entries or dream logs, or from small interactions I've had that didn't feel small. Whereas I think that poems in IT FELT LIKE WORSHIP were heavier with artifice, like I mentioned earlier, and more deliberate. I don't think one process is necessarily better than the other, but it's indicative of some sort of growth.

Besides the finished collection itself, what has writing these poems given you? Why poetry as a medium?

I've always read too much into the small things, dwelled on them for too long - let myself get hurt by objects that weren't sharp. I think poetry is almost necessary for people who go through the world like that. I think it mostly gave me something to do besides sitting up at night staring at the wall - another (possibly more constructive) way to process things. Writing poetry in that period of my life in particular was almost absurd because it made me feel more powerful and capable while simultaneously making me feel more vulnerable. I still feel that way, and I think that's just part of my relationship with poetry.

I'm interested about the reception of IT FELT LIKE WORSHIP, and also your writing outside of the pamphlet. How have your friends/family/people in your creative life received the chapbook? I'm thinking particularly about some of the more ~contentious~ themes it explores (religion, gender, power, etc). Do you ever receive criticism of your work? How do you deal with it?

I don't think I'll ever be comfortable showing my writing to my family and even some of my friends, which is fine - being a poet (but also being alive in general) is inherently embarrassing for me. I've received criticism from men I know for poems like BASEBALL and BEING ADAM, and I have to remind myself that my collection is not for them. Exploring those themes for the first time, privately, was hard enough for me without factoring in what other people would think. I remember deleting entire poems from Microsoft Word documents, thinking "I can't write this," and then just letting them fester in my head before I was like, "I have to write this." If I remind myself of that, and how the poem started as something that had to be done solely for myself, criticism like that loses its power over me.

Are you working on anything at the moment? How has your writing changed since finishing the collection, if at all?

Recently, I essentially scrapped the collection I'd been working on and started something totally new that I'm feeling much better about. I would say it's characterized by spareness, which works with what is turning out to be a recurring theme in it: wanting to whittle myself into some other creature. And it's also about wanting another human so badly, and how those intersect. I'm writing about parts of myself I've never written about before, and it feels good and important but also terrifying.

You can buy IT FELT LIKE WORSHIP from the Sad Spell Press shop. You can find Francesca on Twitter @sappho1996 or at her website francescakritikos.tumblr.com. You can read her previous interviews here:In Sea Foam Mag with Nina WardIn Vagabond City Lit with Jessie Knoles

"It might be possible that the world itself is without meaning."

To put it simply, the first time I read these books, I was confused. They seemed to be about nothing. As I reread them, however, entrenching myself in the imagery, they soon became alive with meaning. Woolf is a genius. She once said that to capture moments in their most organic form, the writer has to "record the atoms of the mind," enacting and habituating her readers to fill in the plot with their minds.

Powered by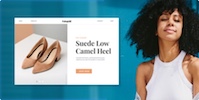 Create your own unique website with customizable templates.